Live-in Care
Live-in care & Companionship Services
Live-in care from Lifeline is a round-the-clock care at home service which allows you, or a loved one, to stay at home in familiar surroundings with an uninterrupted level of one to one support. Incorporating personal care, housekeeping and companionship it is a direct alternative to residential care which empowers and promotes independence.
The Live-in & Companionship service, places the Care Worker in your home on a permanent basis which allows for continuous support.
Live-in care allows you to continue living in your own home and enjoy your local community, with the peace of mind that all of your care needs are being taken care of. You can carry on enjoying life with our full professional support and assistance 365 days of the year.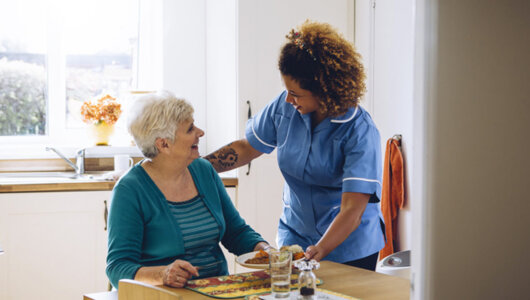 Hourly Care
Our hourly care service's aim is to provide you with the extra care or help you need, so you may continue to lead the life you always have. Our hourly care service offers the support you want, when you need it, so you can continue living from the comfort of your own home. With help from as little as half an hour a day, our hourly care service can make all the difference. We're here when you need it most. From support with your medication to cooking your favourite meal, our professional care workers will empower you to live the life you want.
Sit-in Care
Sit-in Care is temporary care to provide caregivers relief from the full-time care they have been providing for your loved one. At Lifeline Care Services, sit-in care can be arranged on a temporary basis with no obligation to continue home services once we are no longer needed. We are here to help when you need us
Respite Care
Our team of carers are here to provide respite care to anyone who is in a position of care or to any person who spends time looking after someone else
We firmly believe, as the old adage goes, that no one can serve from an empty vessel, and our Lifeline Care Services are here to provide home carer to loved ones with periods of rest and much-needed recharge, as often and as regularly as they desire. Working with Lifeline Care Services in the context of respite care means that you can take a break from looking after your loved one or you can provide anyone else in need of a rest with the security that your loved one is safe and comfortable. Our Lifeline Care Services can provide warm and friendly care according your loved one's medical needs and other requirements, as well as companionship and support.
Night Care
Waking Nights/Sleep In Nights
Our care never stops. Our overnight home care for the elderly and home care clients offers a reassuring service providing the ease of someone you can trust to be there for you at night, whilst enabling you to stay in the sanctuary of your home, in the comfort of your own bed.