Complex Care
Complex care is person-centered specialist support for someone with a chronic or long-term health condition, that requires extra assistance to manage their symptoms and daily activities to enable a high quality of life. The aim of complex care at home is to provide support around an individual's needs and enable them to retain their independence as much as possible.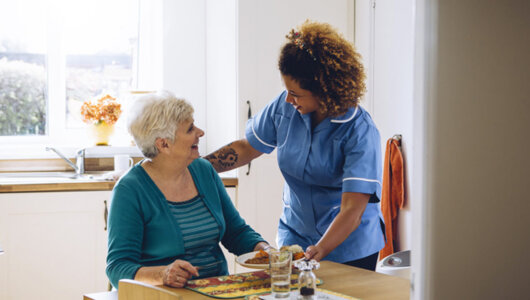 Continence Care
We understand the importance of continence, whether you are using an urinary catheter, Urostomy, Nephrostomy or Colostomy. Our highly trained nurses and carers can and will meet your needs.
Specialist Palliative Care and End of Life
Palliative care is similar to end-of-life or hospice care in that the members of a healthcare team who provide such care offer support to people living with serious or life-limiting illness.
Palliative care is also known as 'supportive care' because it can ease the emotional and psychological stress that often comes with a diagnosis of serious illness; as well, palliative carers tend to the daily challenges that pain and physical discomfort can bring, both in the context of one's own home and outside of the home. Lifeline Carers can work in tandem with other health care providers to help your loved one maintain his or her quality of life, from the moment of diagnosis onwards.
Serious illness of all kinds impacts all spheres of a person's life, as well as the lives of loved ones and family members. A serious illness is often one that has no cure. Sometimes, serious illness can mean a progressive illness that gets worse over time or an illness at an advanced stage. Dementia, advanced forms of cancer, motor neuron disease and lupus are all examples of serious illnesses. Some blood disorders, disorders of the liver and /or kidneys, lung disease, and conditions of paralysis are all considered serious illness as well.
Palliative care often involves a team of supportive health care providers, and Lifeline Carers are able to work with medical specialists and other caregivers to make sure your loved one receives customised care according to your specifications. We will be responsive and sensitive to the changing needs of your particular situation as we are aware that palliative care responds to every kind of condition serious illness offers. We can help you cope with all of the complicated and difficult aspects of your respective situation.
Dementia Care
Familiarity and continuity, for those living with dementia.A change in routine and environment can be daunting for someone who is living with dementia. That's why more and more families are choosing home care rather than residential care, so their loved one can stay in their home where they feel safe and comfortable. With more than a decades worth of experience in providing dementia care from going support to live in care by choosing Lifeline Carers you can be rest assured that your loved one is in good hands.
Continuing Health Care
Our nurse manager has extensive knowledge and experience around Continuing Healthcare, she has worked as a CHC assessor and has assessed hundreds of cases. We understand the requirements from the CHC teams.
Escort Care
Whether it is a short trip to the supermarket or an extended appointment at the hospital. We can arrange a suitable individual to accompany you. We can also arrange transportation if you do not have your own.